Paint-A-Paw Print Fundraiser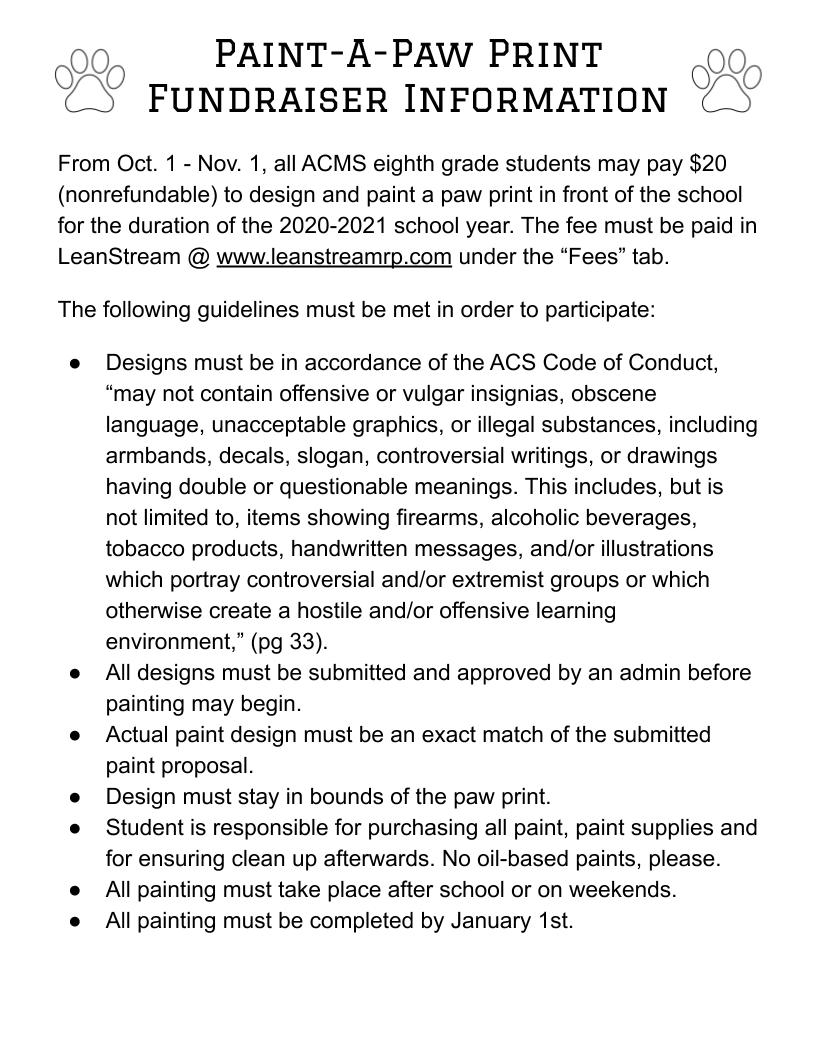 ---
From Oct. 1 - Nov. 1, all ACMS eighth grade students may pay $20 (nonrefundable) to design and paint a paw print in front of the school for the duration of the 2020-2021 school year. The fee must be paid in LeanStream @ www.leanstreamrp.com under the "Fees" tab.
The following guidelines must be met in order to participate:
Designs must be in accordance of the ACS Code of Conduct, "may not contain offensive or vulgar insignias, obscene language, unacceptable graphics, or illegal substances, including armbands, decals, slogan, controversial writings, or drawings having double or questionable meanings. This includes, but is not limited to, items showing firearms, alcoholic beverages, tobacco products, handwritten messages, and/or illustrations which portray controversial and/or extremist groups or which otherwise create a hostile and/or offensive learning environment," (pg 33).

All designs must be submitted and approved by an admin before painting may begin.

Actual paint design must be an exact match of the submitted paint proposal.

Design must stay in bounds of the paw print.

Student is responsible for purchasing all paint, paint supplies and for ensuring clean up afterwards. No oil-based paints, please.

All painting must take place after school or on weekends.

All painting must be completed by January 1st.